A new way to discover your true personality and potential
by leveraging your inherent, natal and acquired strengths

Personality is a combination of genetics and environmental influences.
We help you better understand your genetic potential (via a DNA test) and the impact of your environment in shaping your behavior.
Introducing GenDiscover - a powerful DNA based Personality and Talent Report that helps you discover untapped potential – using the power of three proven sciences – Genetics, Astromancy and Psychometrics
Make your decisions based on reliable insights about your personality - which in turn gives indication on which career or stream has the highest chance for YOU to prosper in.
3-Dimensional OCEAN Profile
Behavioral genetics research has established that BIG 5 or OCEAN traits have a nearly 50% genetic influence.
This is why we leverage the OCEAN or Big 5 Model for reflecting individual traits and characteristics from 3 dimensions - genetics, astromancy and psychometrics.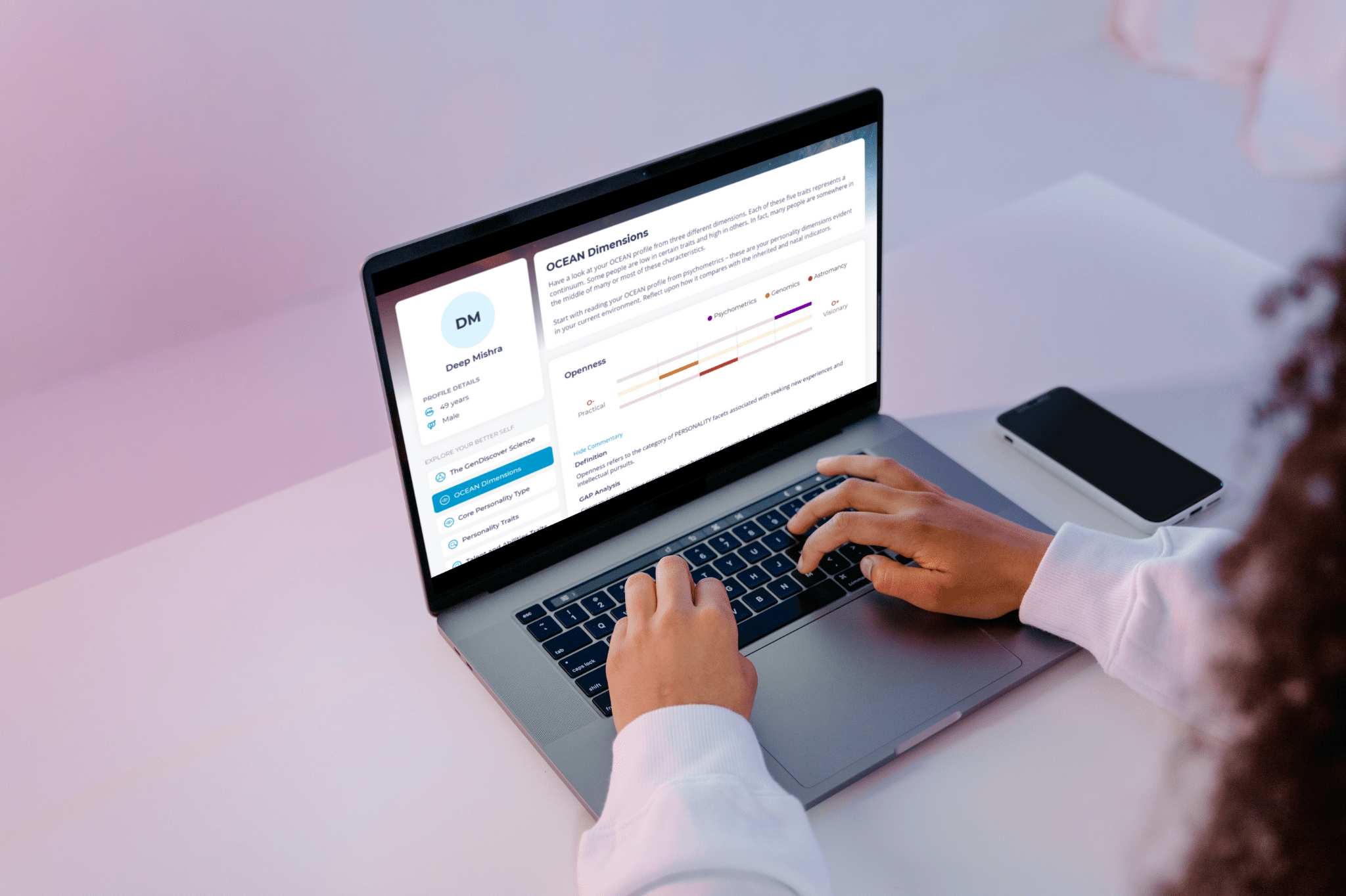 Here's how GenDiscover benefits you
- through the power of three sciences - Genomics, Astromancy and Psychometrics.
New awareness about yourself
Better understand your genetic potential and the role of environment that shapes behavior
Understand your personality traits
Your gifts, strengths, development areas – by nature (ie genetics and astromancy)
Realize your potential
Find out to what extent - your environment and life experiences have enabled you to realize your potential; and what's missing
Discover your current strengths
What areas are already your strengths - backed not just by your self-assessment but also supported by Genetic and Astro analysis.
Get direction on career decisions
Get actionable insights into which qualities are being suppressed and which you can work on – for getting maximum benefits in life – particularly career decisions
Validation from three perspectives
Data from three sciences will help validate the qualities you have or those that can be harnessed; and identify the career direction that is in maximum harmony with your potential – and thus likely to come naturally
GenDiscover
INR 7,999
Your OCEAN profile

Your Personality Type

Evaluation of your Personality Traits

Inherited Talent Traits

Indicative Careers (Your Professional Persona)
GenDiscover with Insights Session
INR 10,999
Everything in GenDiscover


PLUS 1 hour video session with GENLEAP Certified Coach to help demystify your results.
No Cost EMI available for 3, 6, 9 or 12 months
How does it work
A completely online process which you can complete at your convenience!

Add your profile and address
As soon as you submit your address, we will dispatch the DNA Sample Collection Kit.

The kit should reach you in 2-5 days.
Take the online psychometric assessment
A 20 min assessment that will indicate your current personality and behavior

Enter accurate birth details
For maximum impact, do remember to check records and enter accurate birth date and time.

Collect your saliva sample
Once done, ask for the kit to be picked up from the address provided. And your sample will be collected by our courier partner.

Wait for your report!
Well, good things take time. Your GenDiscover Report will be available in 4 to 5 weeks thereafter.

Book an Insights Session
Video session with a GENLEAP Certified Coach will help you understand the findings and have clarity on your future direction.

GENLEAP is the world's first DNA based self-discovery, upskilling and employability platform.
Out mission is to help people leverage their inherent talent and give them the right environment so that they can discover the best version of themselves.
We combined three sciences, to give you the best result. We are connecting the dots by blending DNA tests with psychology and astromancy in our online assessment. The result will help you to discover your true strengh.